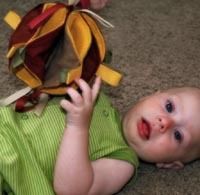 Materials: 12 6" diameter circles, 12 4" strips of twill tape, 12 6" strips of grosgrain tape, thread
Instructions:
1. Take a bowl that's roughly 6" in diameter and trace around it onto a piece of paper to make your template. Or for those of you who need more precision in your lives, use a compass and a draw a 6" diameter circle on a piece of paper to use as your template. I'm more of a bowl person, but I forgot to take a photo of this step...
2. Cut 12 circles from the fabrics of your choice. My clutchball has 6 yellow fleece circles, 2 red corduroy circles, 2 tan wool circles, and 2 brown wool circles.
3. Cut 12 4" strips of twill tape and 12 6" strips of grosgrain tape (or whatever ribbons you have lying about will do too).
4. Fold your template in half and mark the crease points. Then fold it in half the other way and mark the crease points. This gives you a template for placing the tapes evenly around the circle, like this:
Pin the tapes in place on the right side of whatever fabric circle you want to be on the outside flaps of the ball.
5. To that circle, pin a circle of whichever fabric you want on the inside flaps (right sides together). I've lined each of the red, tan, and brown circles with the yellow fleece.
6. Repeat for all the circles, giving you 6 pairs.
7. Sew each circle, leaving about an inch open.
8. Turn the circles right side out.
9. Let your baby have a turn.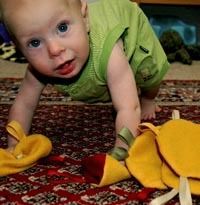 10. Press the seams and topstitch to close the inch you'd left unsewn.
11. Fold each circle in half, like a taco (a) and, at the point where the twill tapes meet, sew together (b).
(a)
(b)
12. Once all the circles are sewn in half, place them in the order you want them to go on the ball. Taking two halfs, match them up at top point so that the 6" grosgrain tapes meet (a). Sew from the top down about 1.5", and from the bottom up about 1.5" (b).
(a)
(b)
13. Keep adding a half circle until you've assembled them all into a ball.
(top)
(side)
(in action)